We Ship Everywhere!
North America
Europe
South America
Asia
Africa
Everdrive N8 PRO - Frosted Green
Regular price

$199.00 USD

Regular price

Sale price

$199.00 USD

Unit price

per
SPECIFICATIONS
Please Note, this Everdrive is Incompatible with the Hyperkin RetroN 3
Features:
Cyclone IV FPGA.
?16MB of ROM memory. 8MB for PRG and? 8MB for CHR.
256K of battery ram for saves.
Real time clock for logging date and time of saves.
High quality 6-layers PCB.
Hard gold plating for cartridge contacts
ARM based 32bit I/O co-processor for SD and USB operations acceleration.
Up to 1024 files per folder, or unlimited if file sorting disabled.
In-game menu. You can save game or return to system menu without physical reset.
Multi slot save states. 100 independent slots for save states.
Instant ROM loading.
USB port for development and system update without removing micro SD card.
Improved audio mixing circuit with op amp.
Dedicated button, which is used for swap FDS disk side or as alternate method to call Save State menu.
Built-in NSF player with expansion chips support (VRC6, VRC7, Sunsoft-5b, Namco-163).
Battery voltage monitoring. Battery can be replaced in time if it going dry.
Ultra low battery ram consumption. Estimated battery life 25 years.
Wide range of supported mappers.
NES2.0 partial support.
Game Genie cheats support.
?
Downloads:
---
DEVELOPMENT RESOURCES (GITHUB)
?
---
?
?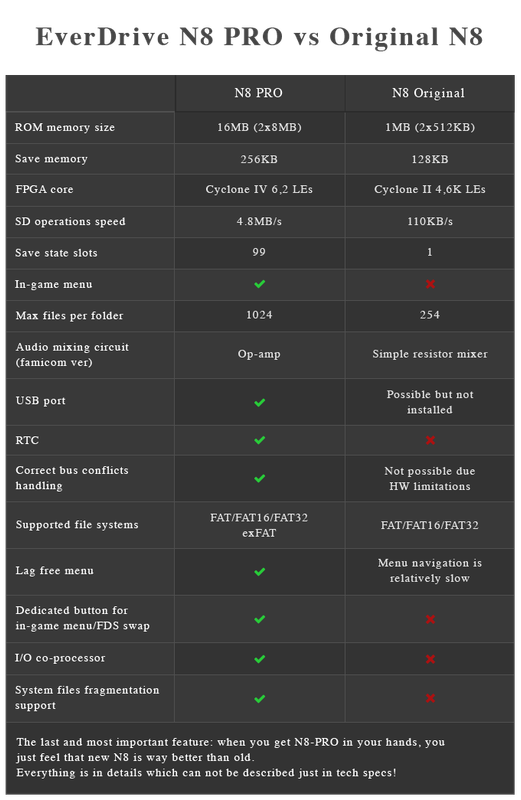 Share
ED N8 Pro!
There's not much to complain about here. Great product. Worth the price. Easy set up. Great way to get the nostalgic tick off my back.
Great cart for general rom loading.
Couldn't figure out how to make the usb port and tool work but otherwise it works perfectly well.
Not working
Formatting 8, 16, 32 gig SD cards....tried them all and can't get any of them to work...black screen with row after row of capitol AAA's...not sure what else to try.
Hi!
We just learn that the RetronN 3 is incompatible with the Everdrive N8 Pro.
Please communicate with US for a full Refund.
Exelente
De lo mejor amigos.. yo sinceramente estoy muy alegre y agradecido de la calidad de producto. Y lo mejor de todo, es un producto original de krikzz.
Unfortunately never received my N8 when I ordered - DO NOT use DHL
I will not speak ill of the Everdrive N8 Pro because I've seen it and used it in the past and its AMAZING. But when I went to finally purchase my own, I unfortunately selected DHL shipping as my shipping method and thus never received my package. Their 'proof of delivery' feature does not protect the recipient and basically was their delivery driver's word versus mine, with no sort of protection. I never signed for my package yet they claim it was delivered. That said, this is merely a warning to be patient and use USPS and DO NOT use DHL. I love Everdrive and cannot blame them, they did their end of the bargain and shipped it, I just put my trust in the wrong service.